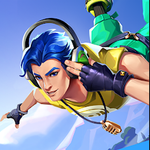 APK Game Info
Game Package :
com.studioarm.sigma
Game Size :
281 MB
Version :
1.0
Total Installed :
1212
Last Updated on :
3 months ago
Android Requirements :
Android 4.3+
Description
Sigma Battle Royale 1.0 Game is an excellent Game that is still #1 free Casual category. Sigma Battle Royale 1.0 APK Game was developed by Studio Arm Private Limited. Studio Arm Private Limited has developed Sigma Battle Royale for the customer to improve and enjoy their experience in Casual. The Game was updated 3 months ago on our portal, please request for any latest version. Unexpectedly, Sigma Battle Royale Game received a rating of 4.5 out of 5 by our Android App editors. Download the APK com.studioarm.sigma and OBB apk packages which is of size 281 MB.
Show more ...
Sigma Battle Royale Game downloaded 1212 times by users for free. Download free unmodified Android com.studioarm.sigma APK only on APKGap. Click on Casual category page and there are lot more free Games like Sigma Battle Royale for your device. If you have installation problems or the Sigma Battle Royale Game is not available in our store, please try to Find Sigma Battle Royale on Google Play Store.
Updates on 1.0
No Updates